Allison Crowe: Live at Wood Hall
I'm behind on my current release reviews, but I must take a break to write about an older album that I love. Though there's really no way to convey through mere words how much the music on Allison Crowe's
Live At Wood Hall
moves me, or how I want other people to listen to and adore it as much as I do. Allison sings with such an intensity of emotion, it's easy to see why she's often quoted as saying "Why music? Why breathing?". She seems to feel her music more than anyone simply listening to it possibly could, and that kind of artistic passion seems extremely rare these days. Her voice produces the kind of chills that I only associate with a select number of singers.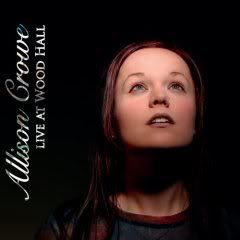 Even the packaging of
Live At Wood Hall
is lovely. The interior flaps of the album cover and each of the two discs are painted with a stained glass window design, pulling apart and fitting together as a perfect picture. The album was recorded live during a two night performance in 2005 at Wood Hall, located at the Victoria Conservatory Of Music in Canada. In between songs, you can hear snippets of Allison's banter with the audience and the enthusiastic response of the crowd.
Like many of Allison's songs, "There Is" starts off the first disc of the album in a such a heartfelt and sincere tone that it can only call to mind classic Joni Mitchell. There are many moments on the two discs where Allison's voice seems to defy gravity, and the opening track is no exception.
"By Your Side" was one of the first original Allison Crowe songs that I ever heard. After her cover of "Hallelujah", this is probably the song that really captured my attention. On the surface it seems like a simple piano tune, but toward the end her voice soars up into an unfathomable note and holds it without faltering at all.
The cover of Ani Difranco's "Independence Day" begins slowly in a hushed and pretty tone, gradually growing into passionate anger and pounding piano. The upbeat music of "Sea Of A Million Faces" betrays the melancholy, longing, and desperation of its lyrics. The lyrics of "Bill" are quite funny, but the power of the vocals diverts attention from the comedy.
"Fire", "What About You", and "Whether I'm Wrong" are a few of many songs that showcase the unique and vast range of Allison's voice. Her pitch is particularly noteworthy on "Whether I'm Wrong", falling to its lowest depths and rising faultlessly to its purest heights.
"In Love In Vain" is soft and jazzy, with a purring lilt to the vocals. The cover of Counting Crows' "A Murder Of One" is fervent and dignified. The first disc is rounded out with Allison's beautiful and echoing acapella performance of the traditional "Believe Me If All".
The soft and soulful "Crayon And Ink" opens the second disc. It's another favourite of her original songs. "How Long" shows off the throatier side of Allison's vocals. "Running" is yet another strong vocal performance, with lyrics that foreshadow "Effortless" on
This Little Bird
. Allison names Tori Amos as one of her favourite artists and influences, and has covered several of her songs. Here she does a stripped down version of "Playboy Mommy", from Tori's
From The Choirgirl Hotel
album.
The lovely piano intro of "Disease" melts into a tune that is much darker in tone than most of her work. The song features some of Allison's best and most intense piano playing. Next is a live performance of the title track from the
Secrets
studio album. It's one of many songs that are featured on both albums.
Secrets
is another great album, though I must admit I prefer these live versions.
The album ends with a trio of covers. "I Dreamed A Dream" from
Les Miserables
followed by a cover of John Lennon's "Imagine", and Janis Joplin's "Me And Bobby McGee" for the finale. All three songs have been covered many times by both great and mediocre artists. Here Allison Crowe once again proves that there is no song too great for her powerful voice to conquer. Her vocals on "I Dreamed A Dream" are especially potent and moving. As with her cover of "Hallelujah", she seems to put every fiber of her being into the song and it's an awe inspiring thing to hear.
Allison Crowe - By Your Side
(mp3)
Allison Crowe - Disease
(mp3)
Allison Crowe - I Dreamed a Dream
(mp3)
You can download more mp3s from the album
here
, and a ridiculously, wonderfully large amount of mp3s from all of Allison's releases
here
. But you're missing out if you don't buy this CD. It's the kind of album that is best heard as a whole, and one that you can really get lost in it if you give it full attention. And Allison is extremely supportive of music blogs and file sharing, so please support her by purchasing her albums.
Allison Crowe's Official Site
Buy the album